Midfielders Meet at Parkrun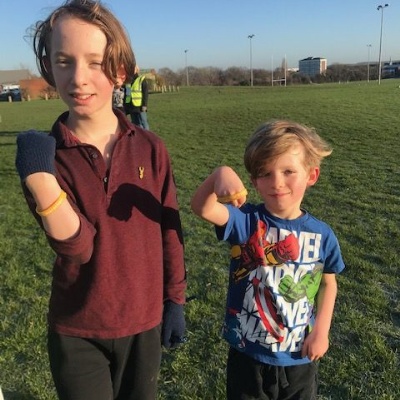 Midfield pupils were up early this Sunday to meet Guinness World Record holder, Kev Howarth, at the local Hoblingwell Parkrun.
Following his visit last term, Kev invited the children to come along and try out the weekly 2k run before learning a few basketball tricks in the park afterwards. As a result, more than half the field of runners was made of Midfield children.
Not all the Midfielders were first timers however, and an extra special well done went to Ben in year 6 and Toby in year 2 who received their ultra marathon wristbands - meaning they have now completed 50 2k Parkruns!
Parkrun is a FREE 2k event for juniors (4-14 year olds) held every Sunday at 9:00am.

These events take place all over the countr with Midfield's local event at Hoblingwell Wood Recreation Ground, Leesons Way, St Paul's Cray, Orpington, BR5 2QB.
f you haven't registered yet, do give it a go - it's free and a lot of fun as well as being a very healthy start to a Sunday morning!

https://www.parkrun.org.uk/hoblingwell-juniors/